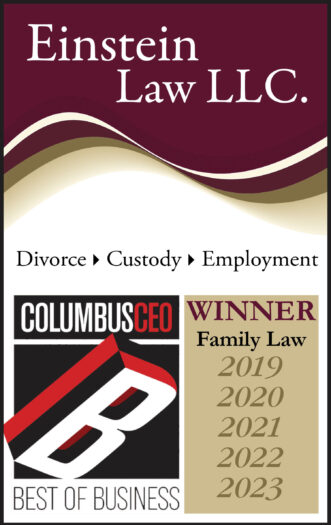 Why Should You Choose Einstein Law, LLC, to Handle Your Divorce, Dissolution, Child Custody or Employment Problems?
Clients of Einstein Law are going through the most stressful times of their lives.  They are either experiencing problems with their jobs, having difficulty in their marriages or embarking on heated child custody battles.
Dianne Einstein, the founding member of Einstein Law, and Megan Gibson, are very experienced attorneys who have been working with clients in Franklin, Delaware and Licking Counties for years, helping them through these stressful transitions. Taylor Jones, an Associate Attorney, is a valuable member of the firm with experience and knowledge in employment, custody and family law. When you come to our office, you will be welcomed by our friendly assistant Deborah Holleran. Dianne, Megan, and Taylor work together to provide all clients with a good experience and to help them through their transitions.
Einstein Law has also been named as one of the top Family Law Practices in Columbus by Columbus Business First three years in a row.
The attorneys of Einstein Law, LLC, are unique in the following ways:

* They provide practical advice and try to resolve your problems quickly and cost efficiently.
* They listen to you and are compassionate, understanding, caring and non-judgmental.
* They practice regularly in Central Ohio courts, so they have the courtroom experience to help you.
* They educate you so that you can make informed decisions.
* They can handle divorces, dissolutions, prenuptial agreements and custody cases.
* Dianne has extensive training in Collaborative Divorce and Mediation to help you resolve your divorce in a healthy way.
The attorneys have significant experience in the following key practice areas of divorce and employment law:

* Domestic areas such as divorce, Collaborative Divorce, dissolution, legal separation, shared custody, joint custody, spousal support, alimony, child support, child custody, paternity, father's rights, step-parent adoption, property rights, asset division, asset protection, prenuptial agreements, separation agreements, debt division, visitation (parenting time), and other related topics.
* Employment areas such as employee rights, wrongful termination, illegal firing, sexual harassment, age discrimination, race discrimination, gender discrimination, disability discrimination, religious discrimination, hostile work environments, issues regarding the Family Medical Leave Act ("FMLA"), nonpayment of overtime, whistleblower, and many other categories of law affecting specific areas in employment law.
Experienced employment, divorce, and custody attorneys serving the Central Ohio region: Columbus, Westerville, Delaware, Newark, New Albany, Gahanna, Worthington, Dublin, Upper Arlington, Hilliard and Lewis Center in Franklin, Delaware, Licking and Union Counties. We are located right next door to St. Ann's Hospital.